Pay Weekly Carpets
We started to offer a pay weekly carpets service to give people the chance to own a quality and luxurious carpet. We now have a large customer base who are extremely happy with their carpet and most are now carpeting other rooms. There are no hidden costs, all you will need to pay when we measure up is a £40 deposit, this is purely to prove a commitment on your behalf.
When a representative calls round to measure up they will have samples for you to see and you will be able to feel the depth and quality.
No Interest – No Credit Check – No Obligation – Get in touch
Read our reviews for Pay Weekl;y Carpets on Facebook here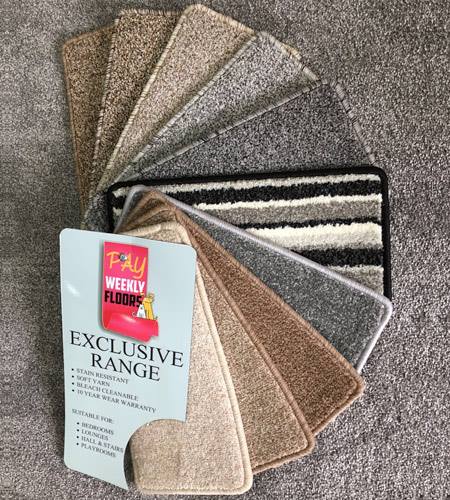 All our weekly pay carpets are Stain Resistant, have a Soft Yarn, are Bleach Cleanable and have a 10 Year Wear Warranty.
Call us on 0800 634 5505 or message for more information on pay weekly carpets.